EDITOR'S NOTE: This story is one of a three in a multipart series from the Olathe Reporter on climate change, its local impacts on health and steps area leaders are taking to address it on a regional scale. You can find the other installments of this series linked in the body of the story you're currently reading. 
Earlier this year, the Intergovernmental Panel on Climate Change put out a report saying that climate change is "unequivocal," and that it's already starting to impact human life. 
In the face of all this evidence of what's already happening and what's to come, Brian Alferman, sustainability program manager at the Johnson County Department of Health and Environment, said "doing nothing is harmful" during a JoCo On The Go podcast in September. 
But regional and local leaders aren't doing nothing, District 4 county commissioner Janee Hanzlick said. Last month, the Johnson County Commission adopted the KC Climate Action Plan, something other MidAmerica Regional Council member bodies have done too or are considering in the near future. The initiative, which came out of a public action organization founded in Johnson County called Climate Action KC, is a first step to addressing climate resiliency in the region, she said. 
"It's a voluntary framework to help guide direct local action in response to the regional impacts of climate change," Hanzlick said, "which have been identified as being major changes in rainfall, like floodings and drought, as well as major fluctuations in temperatures."
Hanzlick, in addition to a placement on the regional council, holds a position on the Climate Action KC board as well. 
Getting the resolution passed through the necessary MARC bodies and introduced into regional jurisdictions hasn't been an easy process. For one thing, there's been a lot of misinformation about what it is and what it aims to do. 
Some of that misinformation was carried into the county commission meetings preceding the eventual adoption of the resolution. There were concerns about ceding power to a regional body from local governments — which isn't happening — and concerns about unrelated clean energy projects planned in Johnson County as a whole. 
"It's a set of strategies, it's not a mandate, it's not requiring communities to do anything in particular," Hanzlick said. 
Adoption of the resolution and the compliance with its goals if endorsed are not compulsory. Hanzlick views it like a cafeteria menu — individual governments and jurisdictions can pick and choose from the strategies in the action plan and ignore what doesn't work for them according to their individual needs. In that regard, it won't cost the county any money outright because there's nothing required about the plan.
"Not all of the suggestions and guidelines and strategies work for every community, every community has to look at it and decide what works for them and what doesn't work and what are their priorities," she said. 
More than anything, the adoption of the resolution was an endorsement of the goal to have the region reach net zero emissions by 2050, Hanzlick said. 
The fact that it's coming up in other jurisdictions is to the benefit of the overall resiliency since Johnson County isn't an island but is experiencing some of the same climate change-related struggles, like changing weather patterns, Alferman said.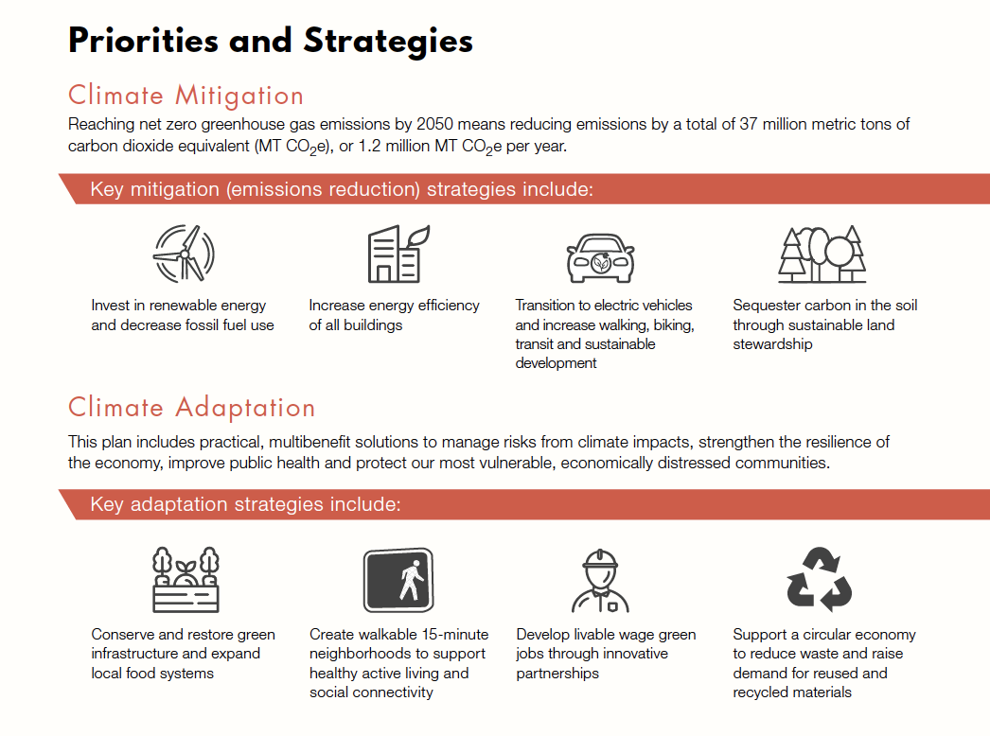 "A problem as large as climate change and its impact on our community, almost has to be dealt with on not only a regional level, but certainly a national level and global level," Alferman said, "Regionally is where we can really, collectively, assemble our like resources and our like interests and tackle them together." 
According to the executive summary of the action plan, the next steps are to "establish a regional leadership group to foster collaboration, guide plan implementation and facilitate community engagement and education reflective of the plan's commitment." There are also plans to instate a "Regional Building Energy Exchange to invest in renewable energy and energy efficiency" while also promoting ideas aimed at expanding "tree-planting" and "green infrastructure efforts." 
WHAT DOES THAT MEAN FOR JOHNSON COUNTY? 
Earlier studies into the county's greenhouse gas emissions indicated energy usage is the largest contributor to emissions across Johnson County, Alferman said. That comes from residential and commercial buildings. The second biggest contributor is in transportation. 
"That's where we're going to get the biggest impact," he said. "If we can make buildings more efficient, if we can make communities more walkable and decrease the amount of cars on the road, things like that, those are where we're going to see the biggest impact." 
Additionally, the resolution will build on some things Johnson County is already doing, Hanzlick said. For example, several years ago Johnson County launched a program to use energy more efficiently in government buildings, which has saved the county a lot of money during the program's lifetime. 
"It's just furthering what Johnson County is already doing, and helping us to look at other ways that we can expand what we're already doing to save taxpayers money, to be more efficient in how we're how we're using our resources," she said. "All of the things that the climate action plan is presenting are all good things to do, they're going to improve our community, whether or not a person is interested in climate change or not." 
Changing planning strategies could make the county more walkable and more friendly to bicyclists. It could also help prepare communities for flooding and improve stormwater management. 
"One of the tenets of the climate action plan is that, 'Well, nobody can do everything, everybody can do something,'" Alferman said. "And that's an important thing to keep in mind, whether you're a local government pursuing climate action strategies or you're an individual pursuing climate action strategies. … The important thing really to remember is to do something, and to keep making incremental progress so that collectively, we're all doing more and individually, that comes down to all of us doing something."