Local health leaders and officials around the community are offering a grim warning as the Christmas holiday nears and the rise in COVID-19 cases starts to crash into the area healthcare system.  
Last week, during a Facebook Live morning medical briefing from the University of Kansas Health System that included chief medical officers and infectious disease experts from the region, the message was summed up by KU's own medical officer Dr. Steve Stites who said repeatedly "We are in trouble" throughout the broadcast. 
"We set ourselves up for danger, and that danger is real, it's present and it's at our doorstep," Stites said. "This is a warning to all of you." 
Ahead of what is expected to be a pretty serious surge from the omicron variant — now documented multiple times in Kansas — a resurgence of the delta variant has hospitals already overwhelmed, further hammering a healthcare system already exhausted from almost two years of COVID-19. That's created an "alarming" reality, Dr. Kim Megow with HCA Midwest said, where things are already getting bad and they're on track to get way worse. 
The Johnson County mask mandate for elementary schools will stay in effect at least through Jan. 6.
In Johnson County alone, the incidence rate —which measures the number of cases per 100,000 residents — was nearly 370 as of Monday, the highest it's been since the last surge in mid-January. The rate of positive infection is now pushing 12% after months of staying below 10%. All of that taken together creates a high risk of COVID-19 transmission, according to data reported daily by the Johnson County Department of Health and Environment. 
A HEALTHCARE SYSTEM OVERWHELMED 
This comes as health systems around the metro area and the state report nearly record-breaking spikes in COVID-19-related hospitalizations and raise concerns about possible co-infection with other winter-time viral respiratory infections that can be serious, like the flu. Megow said HCA Midwest has run out of surge capacity, meaning it's reaching its limits. 
"We're right back where we were last fall, and really on our way to where we were last winter," Stites said. 
Dr. Elizabeth Long, with Olathe Health, said health care professionals are overworked and energy for combatting COVID-19 is faltering. 
"At the beginning of the pandemic, it was like going off to war, everybody was all about it and the energy level was high," she said on Friday. "They're tired and they're worn out. … We all want to be done, but we're not." 
That energy is waning, with several nurses deciding to leave the profession altogether, creating what Long called a "great pinch" that's led to a "dire situation." 
'WE WILL BEAR THE CONSEQUENCES' 
One concern shared by multiple CMOs was that the rising number of hospitalizations isn't just a risk to people who will become severely ill with COVID-19, but to individuals who need emergency medical care for other reasons.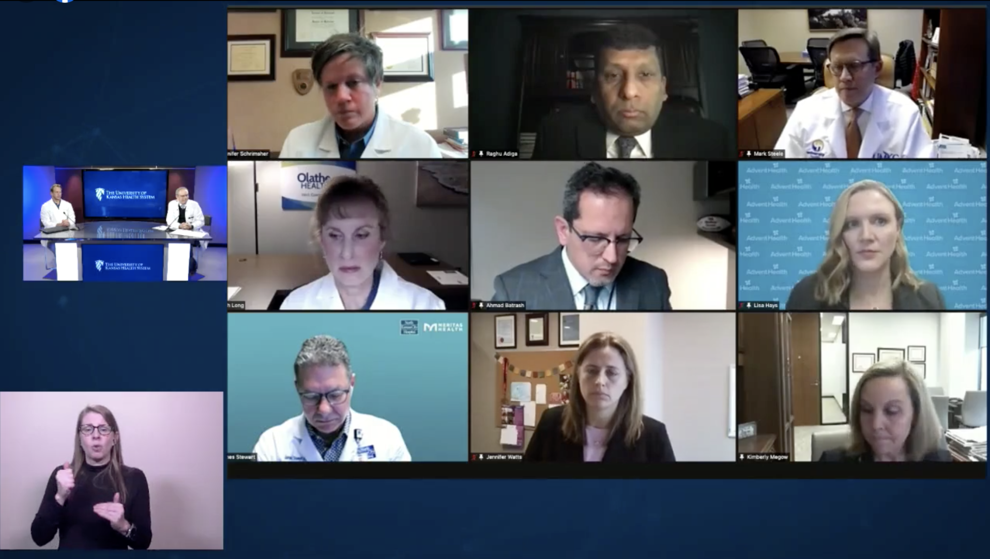 "This has just been an ongoing marathon trying to continue to balance other health conditions as well as COVID," Long said. 
That puts everyone at risk, Stites said. 
"We're out of beds, we're not just out of beds for COVID patients, we're out of bed if you're having a stroke or heart attack," he said. "This is really serious and we're sending this warning to you so you have the warning, and you can prepare, and you can help bend the curve. If our community chooses not to do that, we will bear the consequences of it." 
Beyond getting vaccinated — which public health officials and doctors have urged for those who are eligible — there are other non pharmaceutical measures to be taken that will prevent the spread of COVID-19 that could further strain a healthcare system already at its limits, an infectious disease specialist at KU Dr. Dana Hawkinson said. That means masking, keeping gatherings small over the holiday, testing before meeting with individuals outside of your household and other measures known to slow the spread of COVID-19. 
Dr. Lisa Hays with AdventHealth said it comes down to listening to experts and the science. 
"We are experts in preventing diseases, and just like you trust us when you're sick, trust us to help prevent you from getting sick from COVID too," she said.