Olathe's player of the year in football is a little hard to pin down. Literally and figuratively.
Jacob Parrish, a senior at Olathe North High, is sort of a running back, and sort of a wide receiver and also a defensive back. Oh, and a kick returner.
"I don't really have a preference," he says. "I'm just thankful to be able to play."
Parrish racked up 16 touchdowns, and 1,550 all-purpose yards this fall, helping lead the Eagles to an 8-3 record and an appearance in the state quarterfinals. That was the furthest any Olathe team advanced in the playoffs. Rushing, he had 10 scores; he had another six receiving. He also had 55 tackles on defense and an interception.
A three-year starter for the Eagles — a long-established power in Kansas 6A football — Parrish had 37 touchdowns and 3,840 yards in his career. That's about 112 yards per game. He hopes to play college football, where he's being recruited as an "athlete", meaning his position hasn't been established.
On Wednesday he announced a verbal commitment to Kansas State University; he impressed coaches at the Wildcats' camp over the summer. He's 6-foot, 170 pounds, and can run a 4.49 40-yard dash. He runs the 200 and the 400, plus relays, for the Eagles in the track season.
Kennedy Graham is a lot of things. She's a dancer, a local 4-H leader, a tumbler, an aspirin…
Coaches at the Olathe high schools, in voting on an all-Olathe team, honored Parrish at running back, kick returner and defensive back. And because of all that, he's the Olathe Reporter Football Player of the Year.
"He can catch, he's extremely fast and he has a great knowledge of the game of football," said North head coach Chris McCartney. "He's very coachable. He's super tough. He picks up on new schemes quickly. He can cover any receiver. He's an extremely good tackler. On offense he has great vision as a runner. He can jump and catch any ball within reach. On top of all of that he's a super great kid. Quiet, humble and respectful to his teammates and his coaches."
Parrish wasn't too concerned with all that, or with his individual stats.
"I was disappointed with the way it ended," he said. "I just wanted to win a state championship."
North fell in the quarters to Blue Valley Northwest High, the eventual state champ. Two other Olathe schools had strong seasons — Olathe West and Olathe Northwest Highs both went 3-1 against Olathe schools, the same record as North. But both of those teams fell earlier in the playoffs, giving North the deepest run.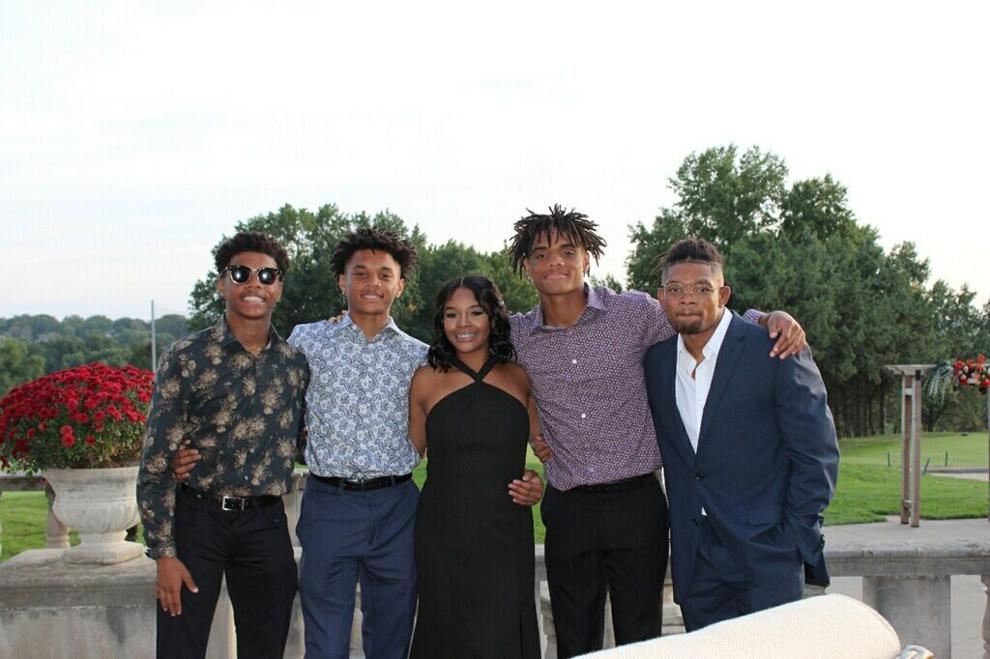 West's season — finishing 7-3, winning a round in the playoffs, knocking off North in the regular season — earned head coach TJ O'Neill the Olathe Football Coach of the Year award. He built West from the ground up; in the school's first year of existence five years ago, the Owls played only JV ball, so this is only their fourth year. O'Neill had been the co-offensive coordinator at Mill Valley High in Shawnee, a 5A power with multiple state titles in its own right. 
Here's the entire All-Olathe roster, as determined by The Olathe Reporter, with votes from the high school coaches.
Quarterback: Mason McGavran, West
Running back: Anthony Favrow, West
Running back: Jacob Parrish, North
Offensive lineman: Cooper Zwart, West
Offensive lineman: Drew Daney, Olathe South High 
Offensive lineman: Jorge Gallegos, North
Offensive lineman: Lucas Conover, Northwest
Offensive lineman: Dylan Birge, West
Tight end: Alex King, North
Wide receiver: Tanner Zimmerman, West
Wide receiver: Erwin Nash, South
Punter: CJ Elrichs, Northwest
Placekicker: Alex Gregg, Olathe East High 
Punt returner: Zayne Wilson, Northwest
Kick returner: Jacob Parrish, North
Defensive lineman: Devan Lowe, North
Defensive lineman: Jayden Oquendo, Northwest
Defensive lineman: Jordan Allen, South
Defensive lineman: Jonathan Hide, North
Linebacker: Jackson Davis, North
Linebacker: Dane Hutchins, West
Linebacker: Alex Gunderson, Northwest
Defensive back: Jacob Parrish, North
Defensive back: Noah Palmer, North
Defensive back: Micah Geary, Northwest
Defensive back: Will Krzkowski, West