This fall athletics season, the Olathe school district tied for the most state team championships of any Kansas district, taking home four 6A state team championships. That's the most won by any 6A community this year, swooping up titles in girls cross country, boys cross country, boys soccer and gymnastics, plus individual titles in cross country and gymnastics. 
Here's a list of the student athletes who stood out in each sport this fall season among a talented bunch. These were the Olathe Reporter's All-Olathe athletes of the year in their sports:  
Northwest's Ella Novion shined among Olathe's fall tennis teams
It's not complicated picking the Olathe Reporter's Player of the Year for 2021 in girls tennis. It's Olathe Northwest High's Ella Novion.
She went 33-7, winning the singles title in the state's toughest tennis league, and took third at the state tournament with a stirring come-from-behind three-set win over the top singles player at Shawnee Mission East. She was undefeated in Olathe district play, and a runner-up at regionals, falling only to the state runner-up, Emily Chiasson of Blue Valley Northwest. At state, she was knocked out in the semifinals only by the eventual state champ, Jill Harkin of Manhattan High.
A sophomore, she finished eighth at state a year ago, so she's on an upward path. That was her goal, she said, to improve on that state finish, and to compete for a league title.
To finish reading the Olathe Reporter's story on Novion's tennis season, click here.
West's Liz Lyons stands out from Olathe's fall golf rosters
Liz Lyons was not playing her best.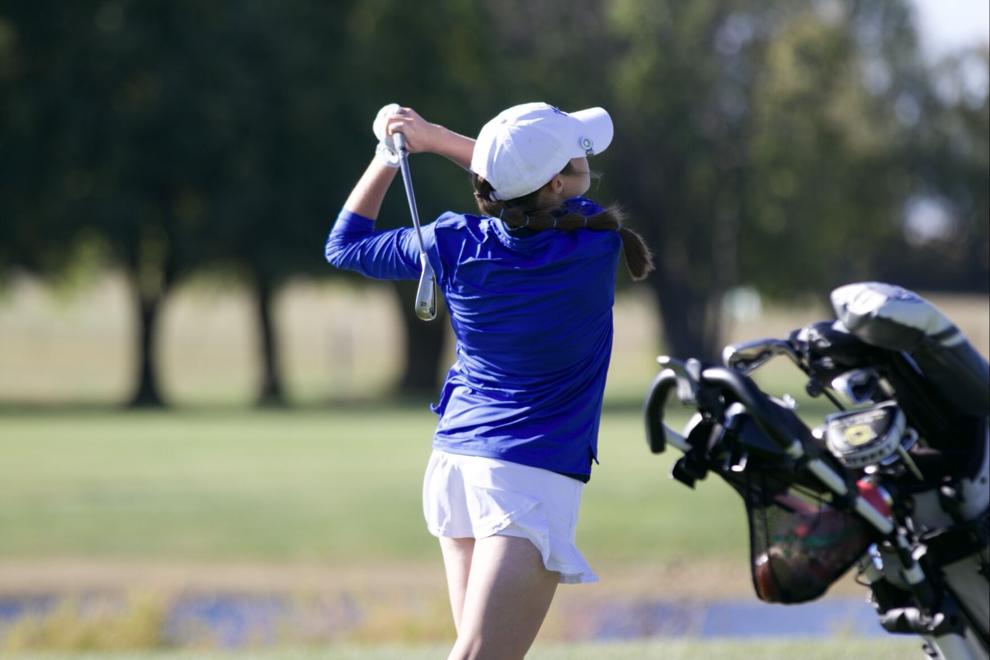 A junior at Olathe West, Lyons was coming off a year in 2020 when she finished 21st at state, one spot away from a medal. She wanted badly to have a good year and improve on that, but perhaps as a result she was just trying to do too much, thinking about her score and pressing. She had some mediocre results, by her standards, finishing No. 4 at the Olathe district meet.
But then something clicked, and she started playing her best golf as the season came to a close. She won regionals and then shot an 80-79 over two days to take third at 6A state, the best finish ever for a golfer from Olathe West.
To keep reading about Lyons' comeback, click here. 
North's Ella Margheim's search for 'joy' brings star performance at state
Joining the Olathe North High gymnastics team in her senior year was about helping Ella Margheim rediscover her joy for the sport, something she says was fading the longer she stayed in club gymnastics.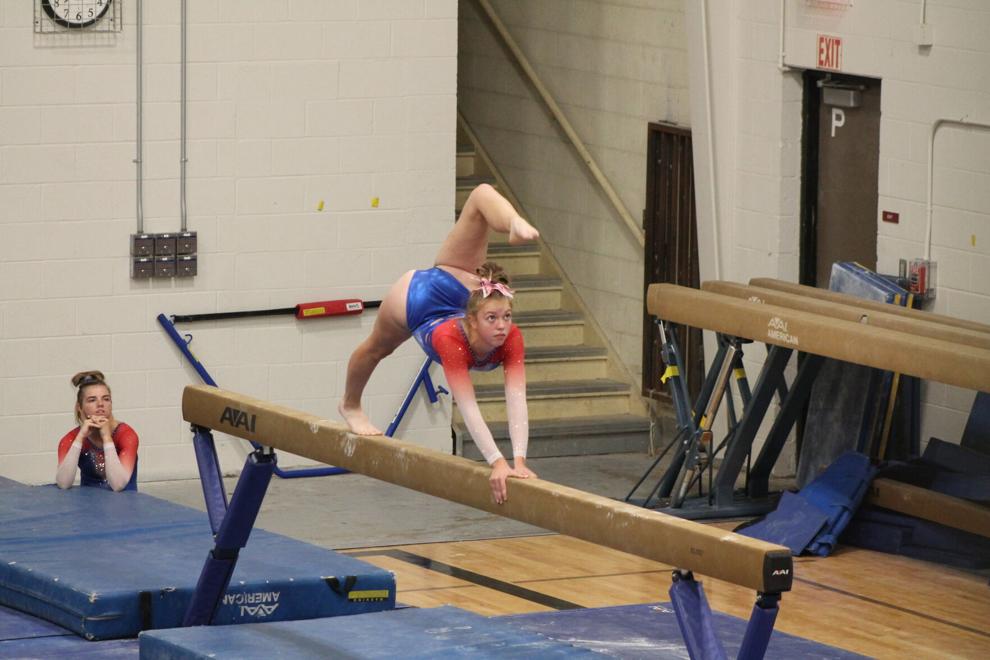 Not only did she rediscover her joy, but she also scored two perfect 10s during the season, set state records in the beam and floor events and swept all four events as well as the all-around at the state tournament in October, leading the Eagles to the state title. Margheim also won the all-around at every meet she competed in.
For that, she's the Reporter's Olathe Gymnast of the Year. 
To read the rest of the story about Margheim's all-star gymnastics sweep, click here. 
North's Anjali Hocker Singh wins second cross country state title 
With an individual state champion, a state title for a team and a state runner-up team, Olathe high schools had an extremely strong girls cross country season. Throw in a team title on the boys' side, and Olathe could easily lay claim to the crown as the capital of Kansas high school distance running.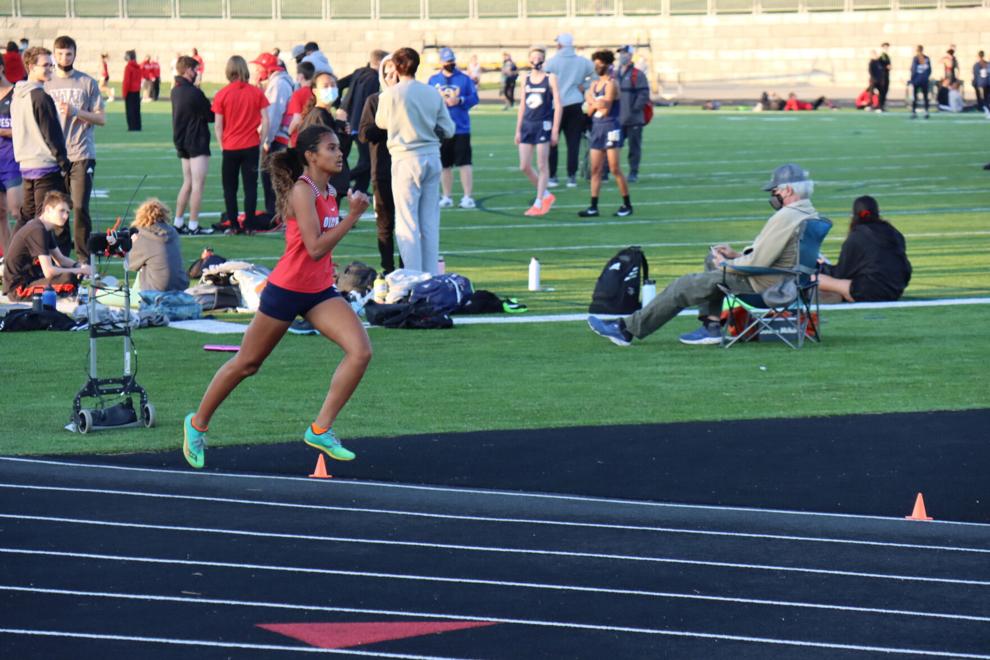 Among an extremely strong pool of candidates, it's still pretty simple to pick the girls' cross country runner of the year: Anjali Hocker Singh. The sophomore at Olathe North won the state title, beating the second-place finisher by 26 seconds. It was her second state cross country championship in the two years she's been in high school.
So she's 15 and has won state twice, plus she won the 3200 meter run at state track last spring. She's clearly gifted athletically, but she said she typically finished fourth or thereabouts when she first tried distance running in middle school. It was only in the middle of her freshman season, she said, that it dawned on her that she could be pretty good. That was after she'd done the summer training with the Olathe North program, and was competing along with teammates like Kaylee Tobaben.
To read more about Hocker Singh's dominating grip on state distance running, click here. 
East's Carter Stewart's injury-recovery, smart running has him leading the pack 
The Olathe Reporter's All-Olathe Boys Cross Country Team for 2021 is senior-laden. But it's a junior — Carter Stewart of Olathe East — who's the Reporter's Olathe Boys Cross Country Runner of the Year.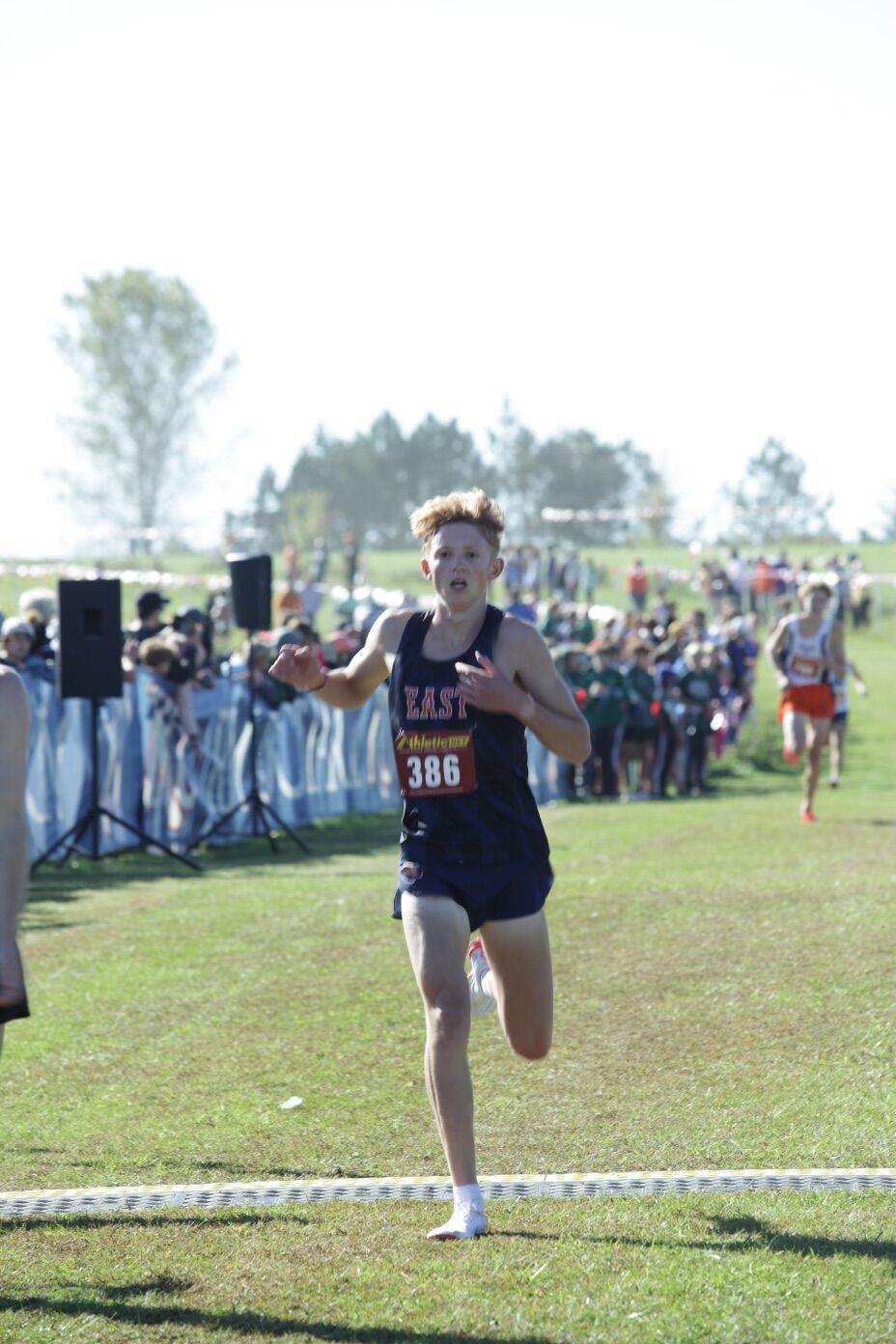 Stewart took third at state, running the 5K race in 15:49. Matthew Tolman, a senior at Olathe South, was the next-highest local finisher, coming in sixth.
Stewart was the pick not only because he was the city's top finisher at state, but also because of the toughness with which he got that job done, coming back from a foot injury the year before.
"I think it speaks volumes that last year he was injured and didn't make the state meet, but came back this year tougher and better than ever," said his coach at East, Anthony Bozarth. "His mental toughness makes him very hard to beat, and he thinks his races through and never beats himself."
To read more about Stewart's recovery and improvements, click here.
Northwest's Skyler Pierce's leadership on the court foreshadows a bright future 
If you ask Skyler Pierce, the volleyball season was off to a slow start for the Olathe Northwest High team. Coming out of the gate, the Ravens had lost three games, and things weren't looking up for the young team.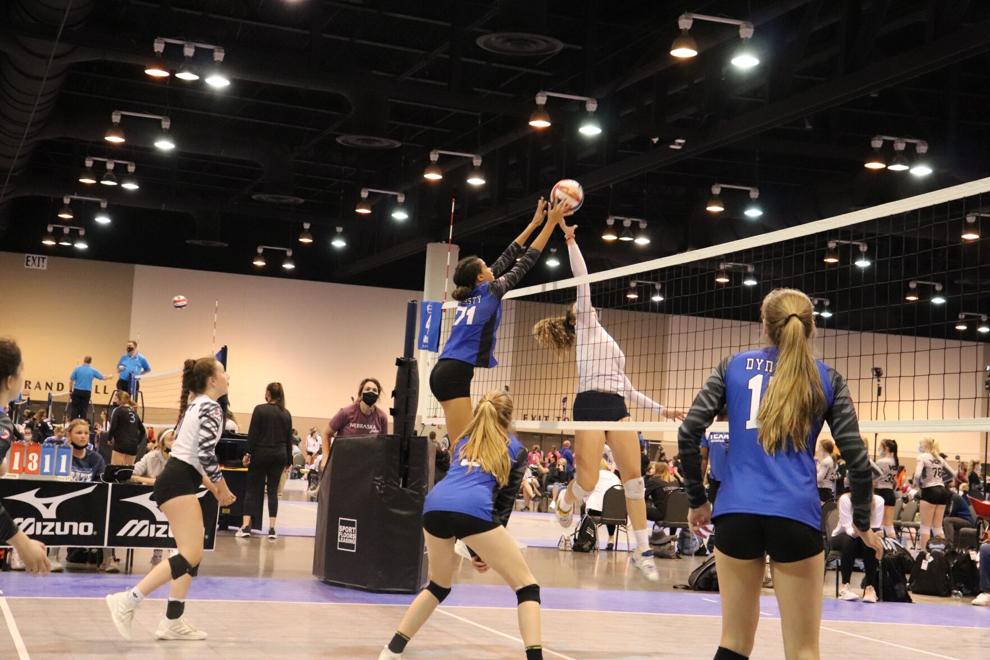 Pierce, an outside hitter, said there was difficulty getting connections with the centers on the court. 
"I think we all were … nervous," she said, "I think we felt just a little out of place." 
But when it clicked, it clicked. 
Among the Olathe high school volleyball coaches that participated in the Reporter's All-Olathe survey, Pierce was the resounding choice for the Player of the Year distinction. 
To read more about Pierce and the Ravens' powerful rebound, click here. 
West's Elyes Ellouz's nets state-winning goal in overtime 
In a year when Olathe West High captured a state title, the Owls' leader is this year's Olathe Player of the Year in boys' soccer.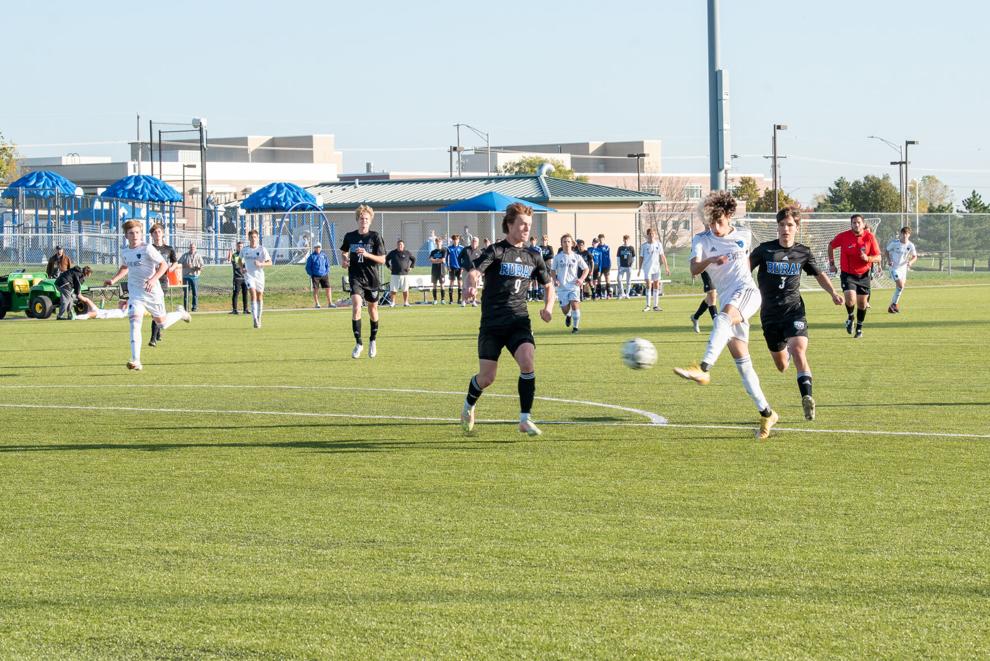 That's Elyes Ellouz, a midfielder who capped an extraordinary season with the game-winning overtime goal in the state championship game.
Ellouz, a senior, tallied 26 goals on the season, leading West to its second state title in three years. The school has only been open five years. For those accomplishments, Matt Trumpp, Olathe West's head coach, is also the Olathe Boys Soccer Coach of the Year.
Ellouz called it "a fairy-tale ending," and said that "it didn't even feel real" to score that game-winner in the title game against Washburn Rural.
To read more about how the Owls and Ellouz overcame a six-game skid to win state, click here. 
North's Jacob Parrish's versatility on the field hints at future success 
Olathe's player of the year in football is a little hard to pin down. Literally and figuratively.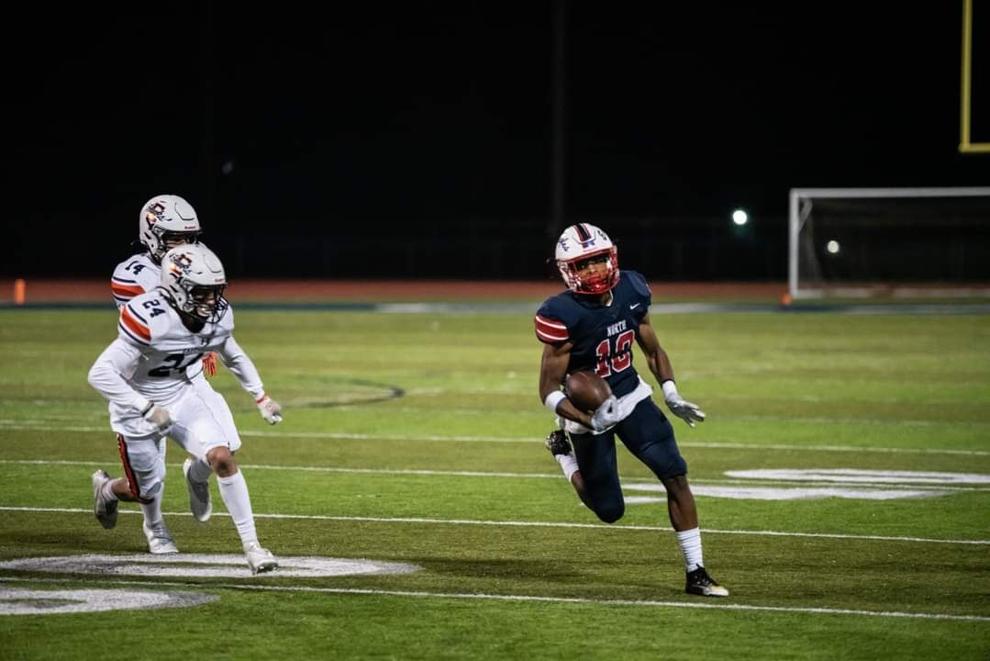 Jacob Parrish, a senior at Olathe North, is sort of a running back, and sort of a wide receiver and also a defensive back. Oh, and a kick returner.
"I don't really have a preference," he says. "I'm just thankful to be able to play."
Parrish racked up 16 touchdowns, and 1,550 all-purpose yards this fall, helping lead the Eagles to an 8-3 record and an appearance in the state quarterfinals. That was the furthest any Olathe team advanced in the playoffs. Rushing, he had 10 scores; he had another six receiving. He also had 55 tackles on defense and an interception.
To read more about Parrish's plans for the future, click here.