No candidates requested an election recount before the 5 p.m. deadline, the Johnson County Election Office said on Twitter Wednesday evening. That was confirmed additionally by election office administrator Nathan Carter in an email. 
Johnson County does not have a mechanism through which races won by a small margin are automatically recounted, but candidates can request one. There is a cost associated with that. 
Jennifer Gilmore, who lost the Olathe Board of Education Member 3 seat to Julie Steele by 65 votes, questioned the integrity of the election on social media but did not request a recount in the election. 
Julie Steele, by a margin of 65 votes, is the winner in the race for the Olathe Board of Edu…
"There is a much bigger issue with election integrity that is important for Johnson County to address to protect our elections," she said on her campaign Facebook page. 
On election night, Gilmore came out of the first round of unofficial results with a small lead over Steele. However, by last Wednesday's election update, Steele was winning by a small margin that grew throughout the week as more mail-in ballots were received before the cut-off. Mail-in ballots that are postmarked by Tuesday, Nov. 2 were accepted through last Friday, which is standard practice and statutorily required. 
Gilmore declared victory on election night despite the small margins in a since-deleted Facebook post. On Wednesday morning, in her social media post Gilmore said she "will make a statement by the end of the week so everyone is informed." She did not respond to the Olathe Reporter's multiple requests for comments over the last week.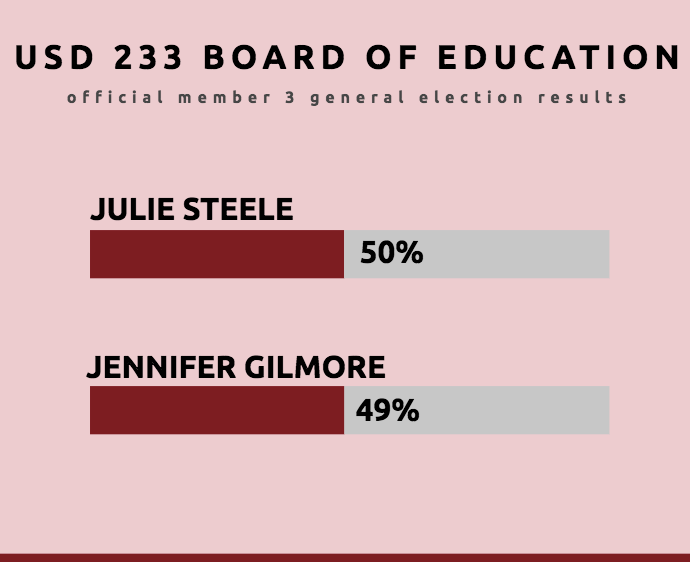 Election results are not official until the votes are canvassed, provisional ballots are counted and the Johnson County Commission sitting as the Board of Canvassers votes to certify the results. That didn't happen until Tuesday, Nov. 9. 
In the official count, Steele emerged with 12,613 votes, while Gilmore had 12,548. The provisional ballots counted on Tuesday as part of the canvass added 188 votes to the race — 95 went to Steele and 93 to Gilmore. 
"Don't ever forget that every single vote matters, and with an election that's been decided by 65 votes, let's not ever forget our responsibility, as well as our privilege," Steele told the Olathe Reporter Wednesday.