Superintendent Brent Yeager says the Olathe school district is "dangerously close" to having to close schools with hundreds of employees out as local COVID-19 rates continue to hit new records. 
Yeager's comments during the Olathe Board of Education meeting on Thursday come as other area districts have announced school or system-wide closures. USD 232 and the Eudora school district both announced their entire districts will be closed on Friday due to staffing trouble. 
"I hope that doesn't happen but for parents that are tuning in, it may be worth it to start thinking about a plan B, you know, just in case we would end up having to cancel school one day," he said. "The reality  is that we're very close to that not being manageable."
600 STAFF ABSENCES EXPECTED FRIDAY 
Daily, USD 233 sees about 500 staff absences. Yeager projected the district would have 600 district employees out on Friday. That amounts to about 15% of the district's staff out, which would be double the normal rate and the most staff absences ever recorded. That also puts the district fewer than 70 staff absences away from having to start closing schools. 
Other school districts have announced they're pumping the brakes on their test-to-stay progr…
The district is currently able to fill about 85% of substitute teacher requests every day to cover absences among its teaching staff, which is good, Yeager said. But that leaves extra burdens to pick up for other educators who are already burned out, he said. 
The only reason Olathe schools have been able to stay open is because Learning Services staff, who are primarily administrators, have stepped in. Without them, Yeager said, in no uncertain terms, keeping kids in classrooms would not be possible. 
"So without them and without their tremendous support, truly, we likely would not be having school in our district tomorrow, it wouldn't be possible," he said. "It's really because of them that our doors remain open." 
If something doesn't change and fast, Yeager said, the Olathe school district might find itself having to close doors. 
On the state level, the Kansas Board of Education made temporary changes to the substitute teacher requirements as a means to address statewide staffing issues in K-12 schools. They will allow anyone 18-years-old or older who has graduated high school to apply for a substitute license, provided they can pass a background check. However, Yeager says that won't provide immediate relief because that process still takes weeks to complete.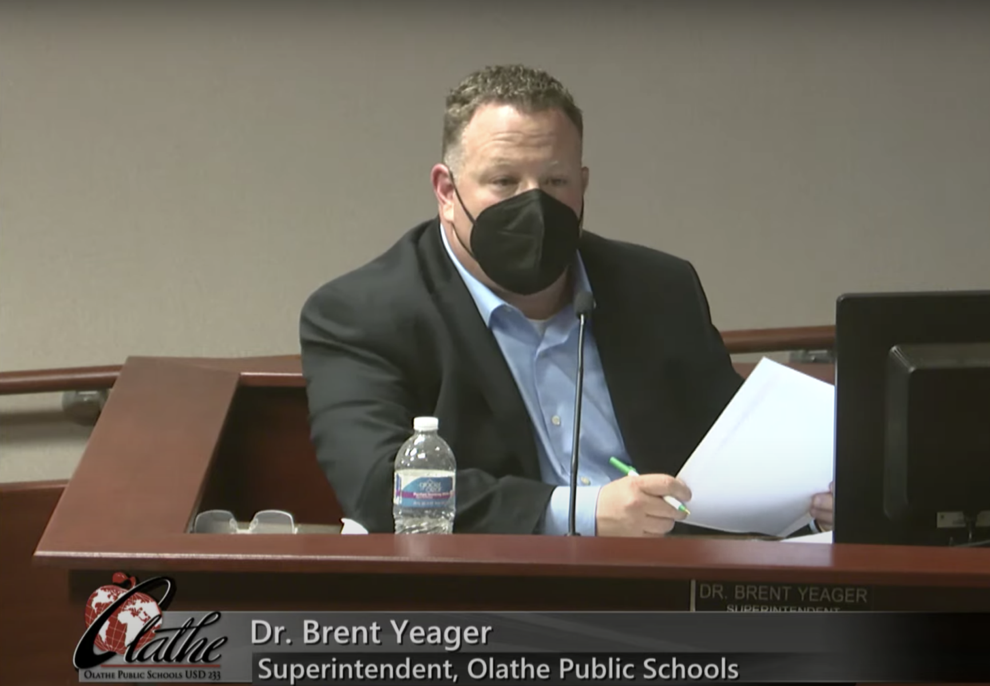 "I'm not sure how we're going to handle that in Olathe yet," he said. "We'll have some ongoing conversation about you know what that may lend for us and that kind of thing."
HOW WOULD A CLOSURE BE HANDLED? 
If the district did have to close because of staffing trouble, Yeager said it would be handled like a snow day. That means the decision wouldn't be up to the school board but made at his discretion. He told the families to be on the lookout for upcoming communication about COVID-19 in the school district and to keep an eye on social media and emails for time-sensitive updates. 
The school district hasn't updated its COVID-19 dashboard since the spring semester has begun, which means infection and quarantine rates among students and staff is not public knowledge at this time. However, Yeager said "the numbers that we're experiencing are off the charts right now," which correlates with the community-wide context. 
"We're just trying to put one foot in front of the other right now with the massive numbers that we're talking about," he said. "We all know the best place for our kids to be is right in our schools, we'll continue to work hard to make that the case."