The Olathe school district's weekly after-school program called The Spot held its annual grand opening on Tuesday, kicking off a school year of free activities for middle and high schoolers. 
Located in the Johnson County Youth and Family Services Center, 920 W Spruce St., the program is available every Tuesday from 3 p.m. to 5:30 p.m. It has a variety of "spots," including a reading spot, outdoor spot, makers spot and a music spot. 
One of the most popular parts is the game spot, executive director of diversity and engagement in USD 233 Erik Erazo said. It has some arcade games, pool tables and foosball. 
Students are also provided a free meal and can purchase additional snacks using a point system. 
Beyond the activities, it gives students a place to go to do something constructive, Erazo said. It offers homework help, free books and mentorship opportunities as well. 
This version of The Spot is actually the third iteration, the first one founded in the summer of 2008 as a smaller group of students led by Erazo at a church in the area. Other iterations have used school spaces. Erazo said he built it around a program he attended after school as a kid. 
"One of the things that I found that was unfair was to tell a kid not to do something without giving them something to do. There's nothing free in Olathe to really do," Erazo said. "We're always talking about what we can do with kids that are already in the system. And I've always just been like, 'Hey, we need to do something before kids get into the system.'"
The program is put on in coordination with the Olathe Fire Department, the Olathe Police Department, the Johnson County Department of Corrections, the Johnson County Mental Health Center, the Olathe Public Library and now with the Drug Enforcement Administration.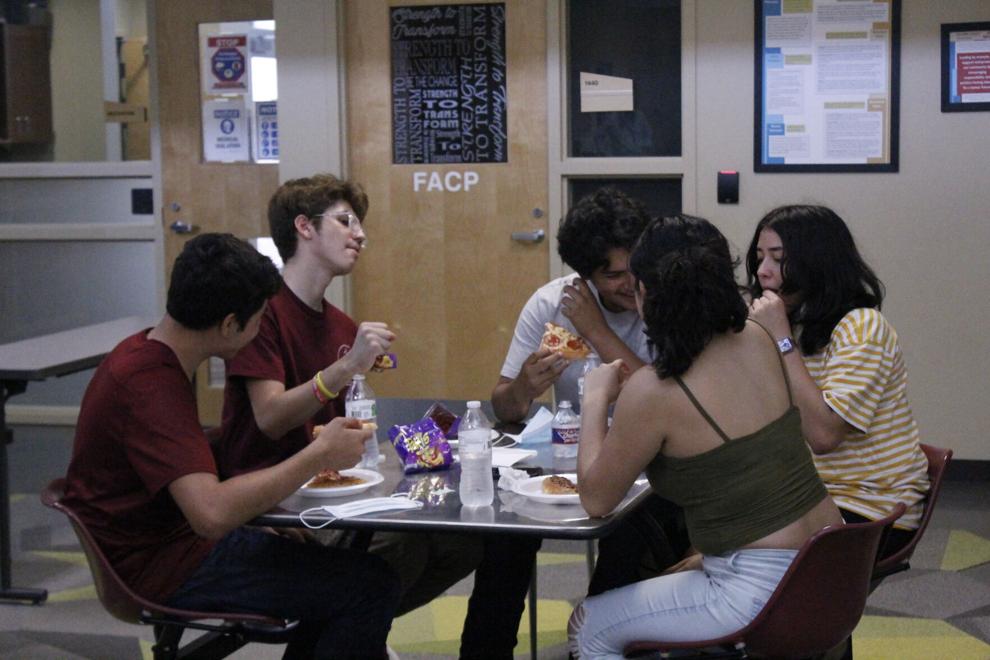 "They send volunteers and or people that are being paid to come out here and help us run the program," Erazo said.
One of the biggest expenses associated with The Spot— the space — is already covered, Erazo said, because the county allows the district to use the youth and family services building for free. The program is also supported by volunteers. 
The other expenses are covered by grants from partners, Erazo said, like the DEA and the local Department of Corrections. That extra money helps cover odds and ends, like basketballs, and the cost of food. The Olathe Public Schools Foundation also provides some support. 
Another important part of The Spot is the family element, Erazo said. While the emphasis is on students, parents can also come to take five-weeks-long classes mostly geared toward immigrant families or families who have historically not attended higher education. Mostly, the courses are given in Spanish. 
"It turned out to be a great program that always fills up whenever we have openings," Erazo said. 
A big part of the class gears toward communicating with teenagers and "cultural translation" between parents who grew up in other countries with children who grew up in the U.S. 
"'This is how we would have been disciplined in Mexico, or this is how things were in Mexico. And then my kid is growing up in the United States, though. So he's coming home with these crazy ideas, or he's not responding well to this, and I just don't understand, I don't get it,'" Erazo said. "And so we try to explain that perspective of, 'Hey, they are being raised somewhere else.'" 
Adults who complete the parenting program graduate and receive a certificate.