The Spring Hill school district owns a property at 175th Street and Ridgeview Road in south Olathe they're not ready to use yet, but they might have to build a road for it in the near future. That's because a developer is hoping to buy a property to the east for possible residential and commercial construction, which would require the district to build its share of the future Lindenwood Road. 
The area in question is close to Wolf Creek Elementary, Spring Hill High and the site of the third middle school on track to open for Fall 2022.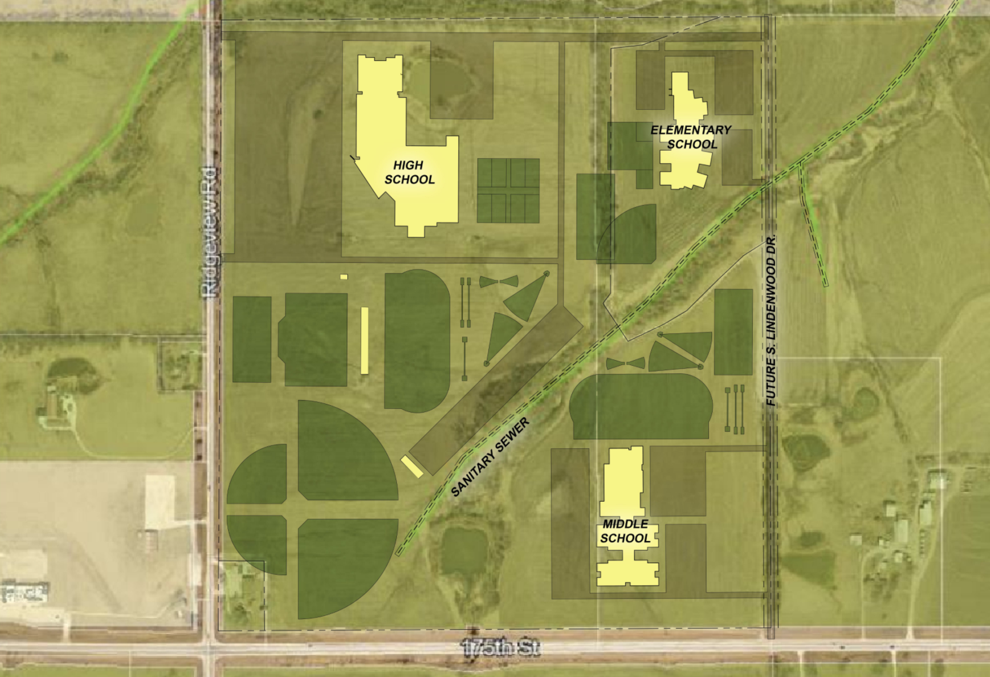 LOOKING TOWARD THE FUTURE 
The details haven't quite been sorted yet between Inspired Homes and the city of Olathe, but USD 230 is starting a conversation with an engineering firm to work with the developer on designing the project. According to a concept plan for the property, the developer wants to start building on the east side of the property — which is near Mur-Len Road — and move westward. 
"[Inspired Homes is] working on a plan to develop that piece, and part of that needs to be the construction of Lindenwood," Phil Elliott, Spring Hill schools' director of technology, told the Board of Education on Monday. 
That would require Lindenwood Road to be built during the second year or later of the project, Elliott said, but it'll take a long time to get the details hammered out. That means it's time to start working on the design now so both parties can make plans for what Lindenwood will eventually be and work their respective plans around it. 
Spring Hill schools' superintendent Wayne Burke will retire at the end of the school year. B…
"We always anticipated building Lindenwood prior to us doing anything with that property, so this isn't necessarily a surprise, but the timeline is what we need to get nailed down," he said. 
Elliott said the district would most likely have to dip into its capital overlay budget, which is supported by property taxes, to eventually pay for the road to be built. At this time, an exact price tag isn't available. However, Elliott said he expects the district would be able to pay for it overtime in a payment plan instead of all at once. 
Some of the key considerations that need to be figured out between the district, the city and the developer pertains to the trees existing where the roadway might go, buffering and road placement. There's also some concern about a drainage issue in the area, which could impact where the road needs to be placed, Elliott said. 
No decisions were made this week, but Elliott said the board may soon have to vote on a contract for design work.